In celebration of nearly finishing my Bead and Button Show applications to teach next year, I am posting my first tutorial.
These Super Speedy Starburst Earrings are really fun.  You can whip out a pair in about a half an hour.  Perfect for gifts, or if you don't have the right earrings for your new outfit.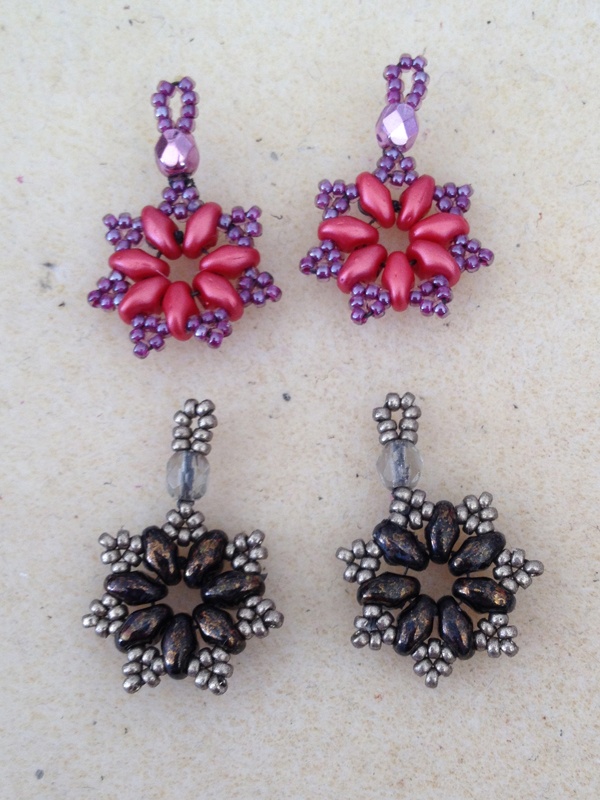 Super Speedy Starburst Earrings
Supplies: 14 Super Duos or Twins
2 4mm Fire Polish Beads
1g size 15 Seed Beads
Nymo D or 6lb Fireline
Size 12 needle
2 Earwires
Lighter
Wax a 1.5 yard length of thread. Bring the needle to the center of the thread. Tie the two tails together in an overhand knot. Trim the tails close to the knot and melt the thread with the lighter.
Pick up 7 Super Duos. Bring the beads close to the knot, split the two threads apart and bring the needle between them. Make a U-turn, then pass back through the last Super Duo Strung.
Bring the needle through the outside hole of the Super Duo. Pick up 3 size 15 beads and pass through the next Super Duo on the ring continuing to use the outside holes. Continue adding beads in this manner until you have 15's in between each Super Duo.
Bring the needle out of the first 15 in one of the sets of 3. Pick up 3 15's and pass through the third 15 in that same set.   This will create a picot. Pass the needle through the Super Duo and the first 15 in the next set.
Continue adding picots until you have completed the circle.
Bring the needle up through the last picot so that it is exiting the center bead of the picot. Pick up 1 Fire Polish, 8 size 15's. Pass back through the Fire Polish, and through the center picot bead from the opposite side. Reinforce this loop one more time.
Tie a few half hitches, then add the ear wire to the loop.   Make one more.
Francie Broadie
Send me pictures if you make a pair.  I would love to see your color combos.    Enjoy!
---
---