Hello Everyone!    This has been a doozy of a month.   I completed my piece for the TOHO Beads Challenge. (It's pretty fabulous, if I do say so myself, but I can't show it off until next month.)   I taught 2 big classes, and I participated in the Stutz Artists Association Annual Open House, which is my biggest show of the year.   In between all that I somehow managed to make 6 new necklaces, 40 pairs of earrings, and I knit a shawl out of sock weight yarn! (The shawl still needs to be blocked, but I'll post a picture soon.)   This didn't leave much time for the old UFO drawer.    But still progress was made.
I'm pretty sure this is what the inside of my brain looks like at the moment…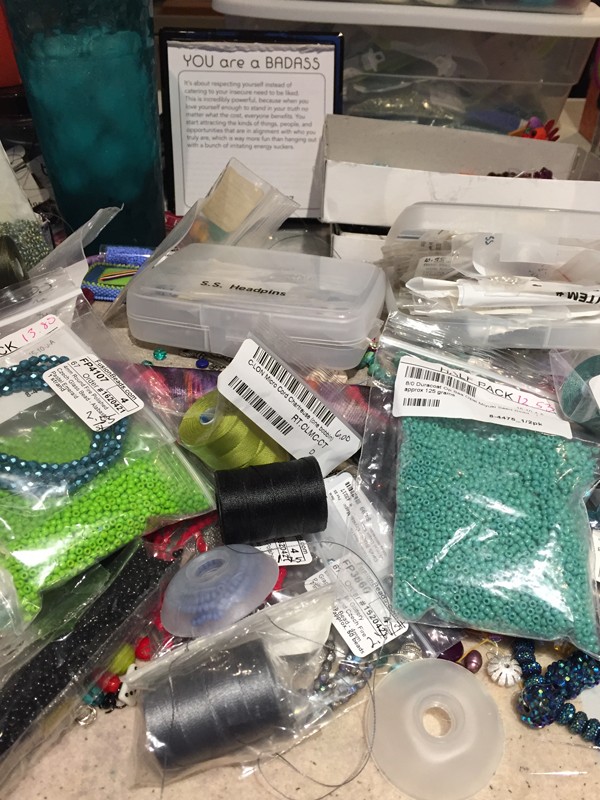 Two of the six necklaces that I made were technically UFOs.   Last fall I made several sets of beaded beads from a Diane Fitzgerald class last summer.  I had intended to turn them into necklaces for last fall's shows, but they got put into a box and forgotten.   I pulled them out a few weeks ago, and realized why they had been relegated to the box.   They are long, so they don't drape as nicely as I had hoped.  But I am pleased with how they turned out. The set pictured here is strung with vintage lucite beads and some mahogany obsidian.   I still have two sets to string.  I might experiment with hanging the other ones vertically.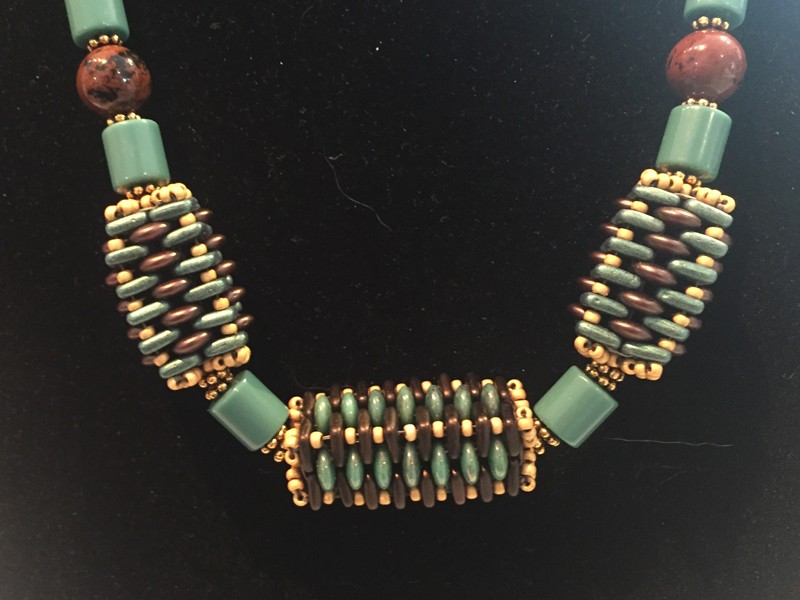 I also made some progress on a freeform peyote bracelet that has been sitting in the drawer for years.  It's not finished yet, but it's closer than it was.  I pulled it out yesterday, thinking it just needed a clasp, but really, it needs a little something else, and I didn't have quite the right button.  Maybe this one will be finished next time.
Here is the before: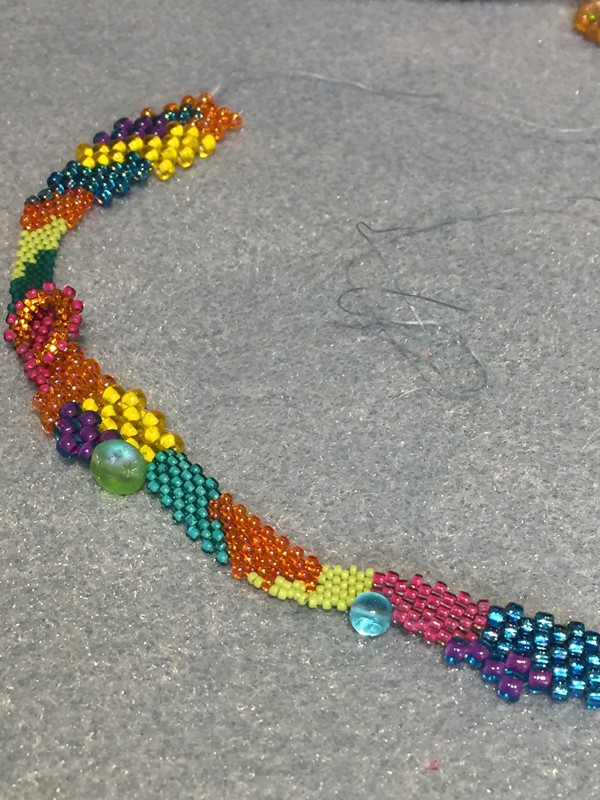 And here is what it looks like now: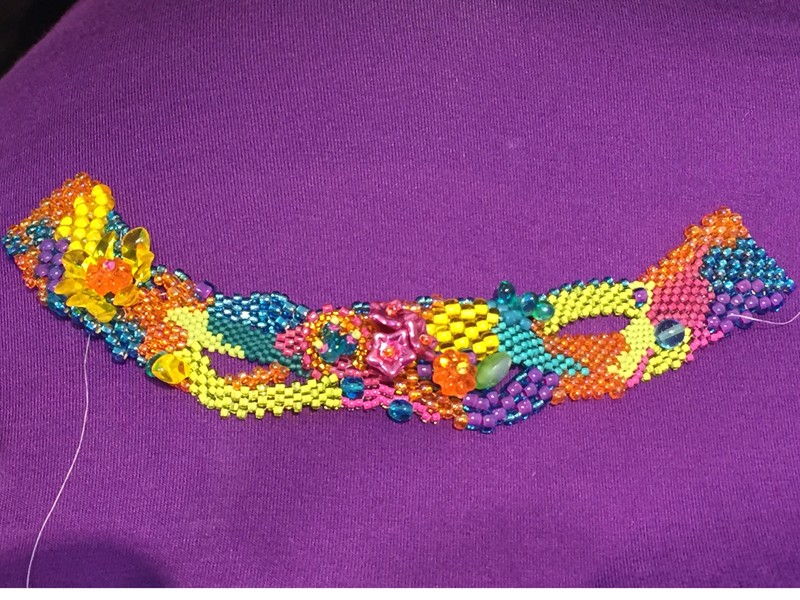 It's getting better but not quite there yet.  I think it needs more embellishment, but I'm not sure what.
Yesterday I was a total zombie after the whole crazy month and having spent the last two days working the show, so I needed something low key to work on.  I pulled out a half finished crocheted rope that I started several years ago.   I thoughtfully left the pattern with the piece, but it took a few minutes to sort out exactly what I was doing.   I cut the finished portion of the rope from the spool, and strung 4 36 row repeats of the pattern, which should give me the same length on the other side.    I decided I would make the rope in two pieces, and add a focal bead in the center.  This seems like it gives me more design options.   I tried to start crocheting it last night, but I think I have the wrong sized hook.   Lately I have been crocheting with smaller cord, so I switched to a smaller hook, and that wasn't working.  Need to dig out the other hook which is probably buried in the ufo drawer somewhere.   I'm hoping I will be able to find a cool focal bead at the Bead and Button Show in June.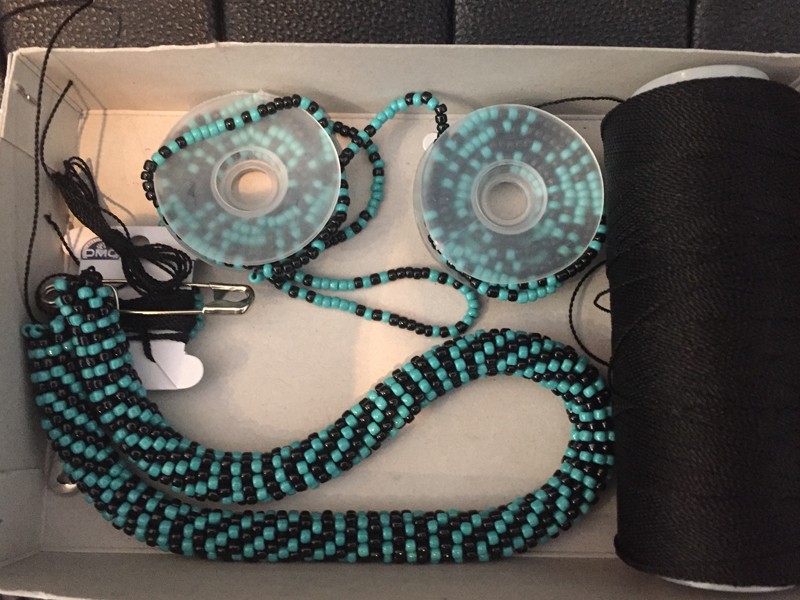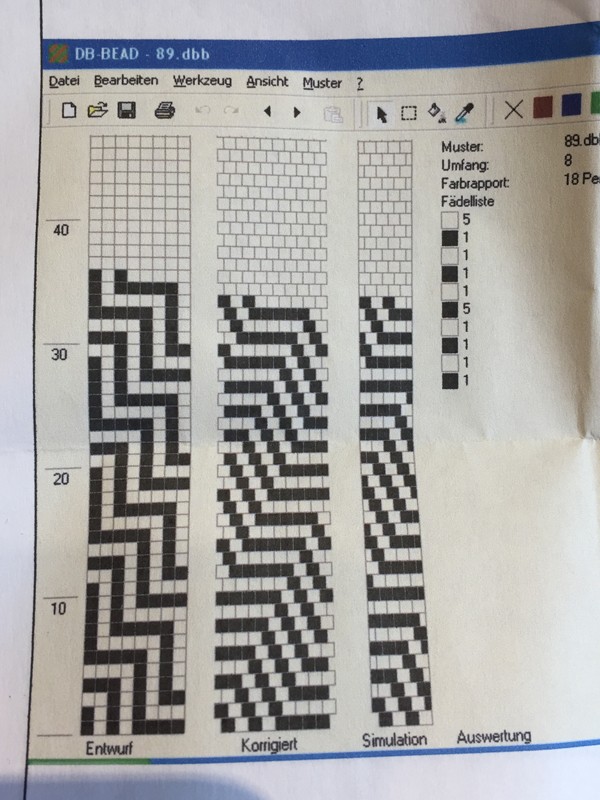 For the next deadline, I hope to tackle one of my big UFOs.   May is traditionally UFO month in my studio. I like to finish up a few projects before I head to Bead and Button and come home with more unfinished projects…
I hope the rest of you have had more success with your UFOs.  I look forward to cruising through the list to see what everyone has been working on.
Karen Williams, Baublicious
Francie Broadie,  FAB
Christine Van Dyke Altmiller, One Kiss Creations
Therese, Therese's Treasures
Kim Dworak, CianciBlue
Liz Hart, Treetop Life
Liz En, Bead Contagion
Amy Severino, Amy Beads
Cynthia Machata, Antiquity Travelers
Hope Smitherman, Crafty Hope
Christi Carter, Sweetpea Path
Bobbie Rafferty, Beadsong Jewelry
Margo Lynn Hablutzel, My World and It's Full of Books
---
---