Hello Everyone,
Please excuse my long absence.  Life got a little nutty there for a while.   It's still a little nutty, but mostly manageable.    In the mean time, I have been busy behind the scenes beading away.
I was thrilled to be picked for Karen Williams Fancy Fish Design Team.  I got to test out her fabulous Fancy Fish pattern.  It is chock full of great pictures and instructions, as well as lots of info on right angle weave and details like how thread color can alter bead color, something that people don't necessarily consider.    So, on to the pictures, my first fish sort of dictated the direction I ended up going.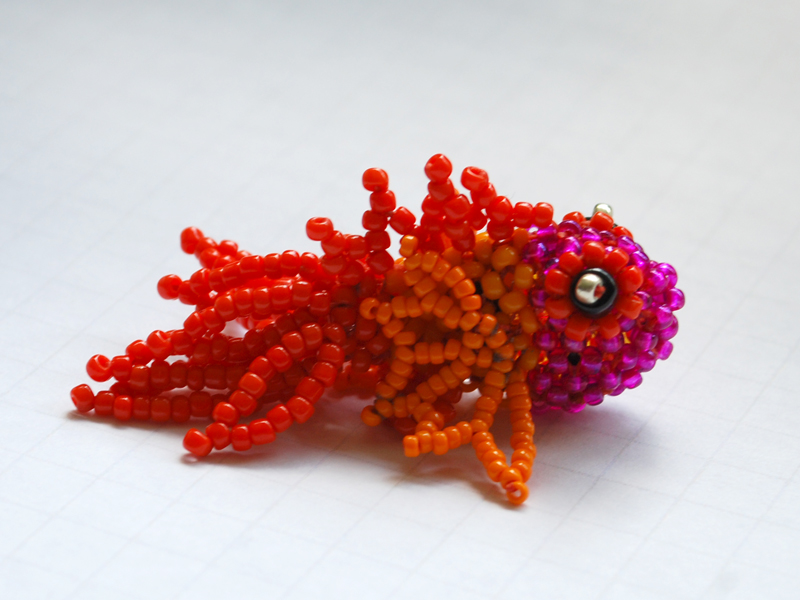 A long time ago, I helped paint a mural with these wonderful purple/pink and orange fish and I have been enamored with them ever since.     It was a bit of a challenge to find the core beads around here, so I went with what I had in my stash.   Since my core bead was a bit stubbier than the bead requested in the pattern, I found that the side fins in size 11 beads were a bit overwhelming, so I used a little artistic license and switched to 15's.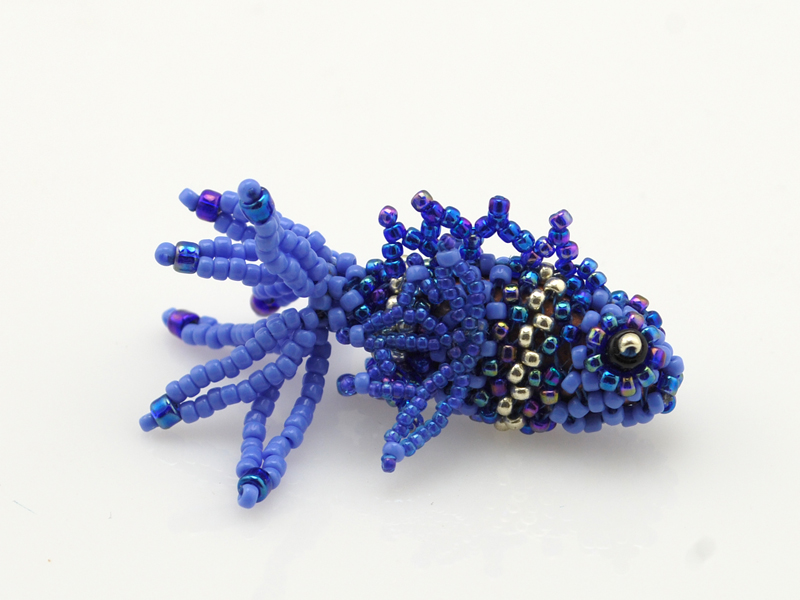 Fish number two is totally unrelated to fish number 1.    My dad needed a birthday present and they were heading off to the boat for a few weeks, so it was high time the boat got a new mascot.    I hear that this little guy is now hanging over the chart table.  I did have fun playing with stripes on this one.  I found some larger, pointier beads for the base on this one.   I had to add a few extra rows before decreasing, but that was about it.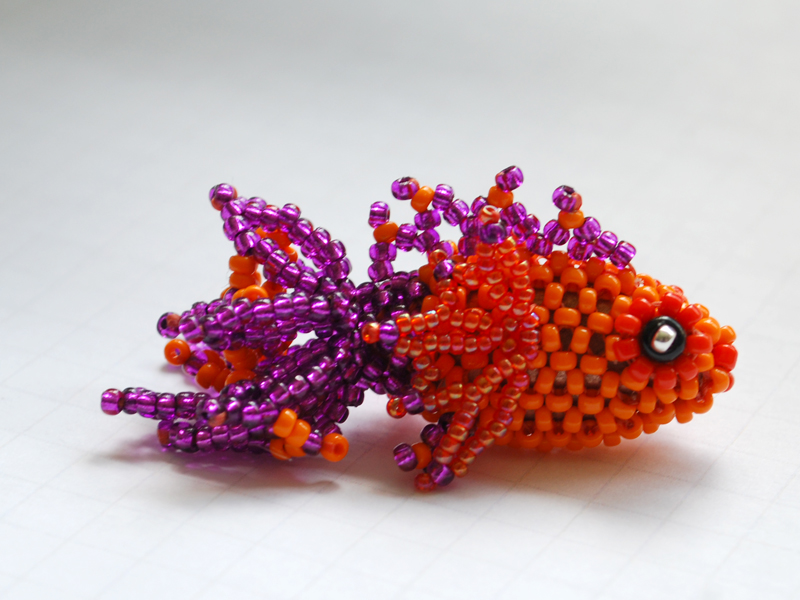 For the next fish I used another of the long pointy beads for the base.    I ended up going with the fancier tail on this one.    It's very full.  And I also made the fancier side fins.   I also had to add extra rows on this one.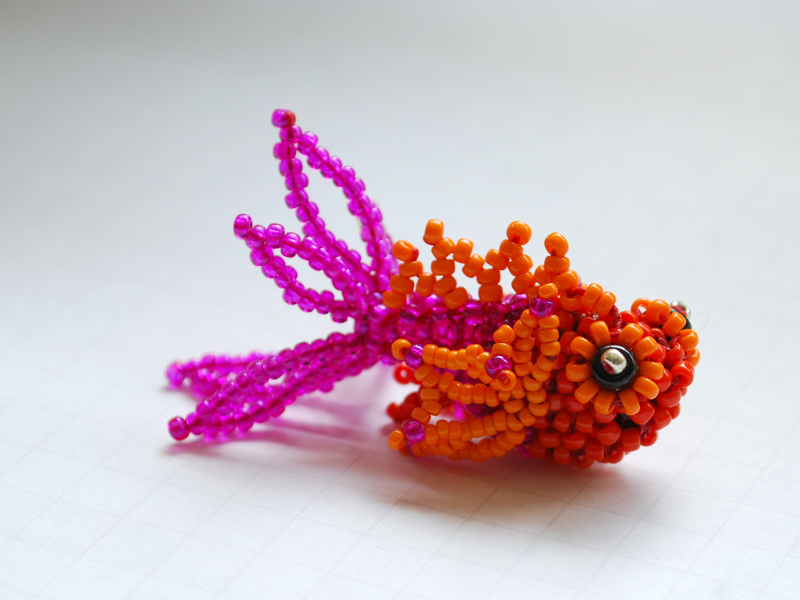 My final fish was another with the stubby core bead.  I went with a smaller tail.   I had a few shaping issues with this guy, due to my core bead, not the instructions.  So I ended up tweaking the shaping on this one which gave me a more bulbous fish.   Next up was figuring out what to do with them.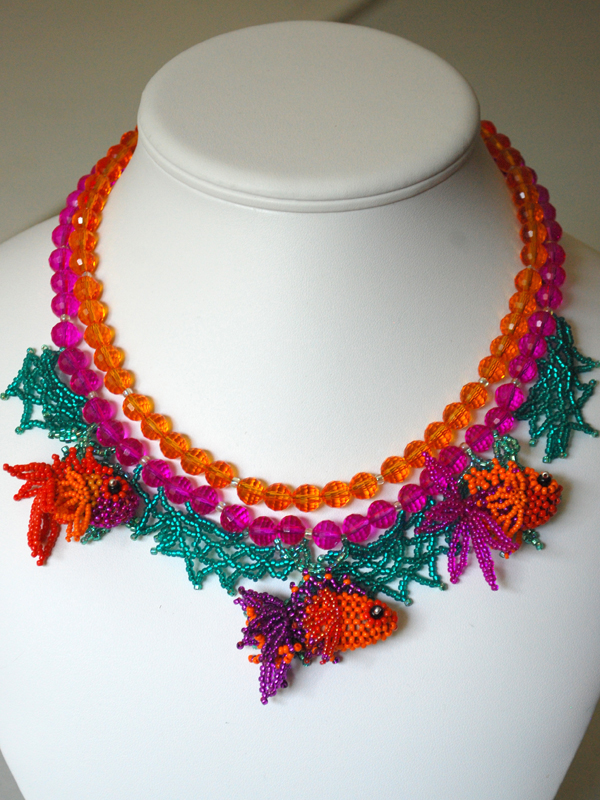 I bought the orange and hot pink faceted beads last winter thinking of summer.   I didn't have a plan for them at the time.   Who knew they were just waiting for this moment.    They matched the fish perfectly.    I made some free form netting leafy pieces, and added some leafy fringe.  Finally I attached the fish and voila, a fun summery necklace.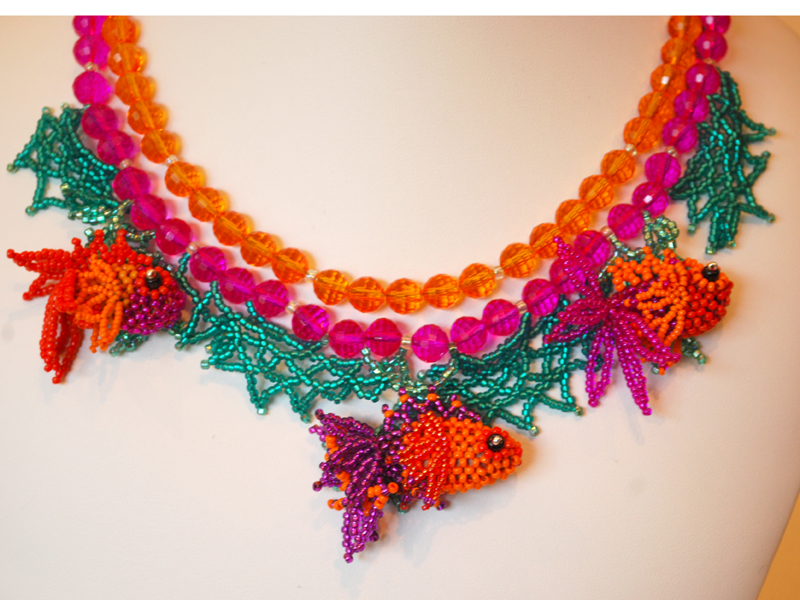 The close up is a bit wonky.   The light was failing, and my basement is still a disaster area, so the light box was unavailable.   Here's a final pic with a flash, which I don't normally like, but this one made the beads glow.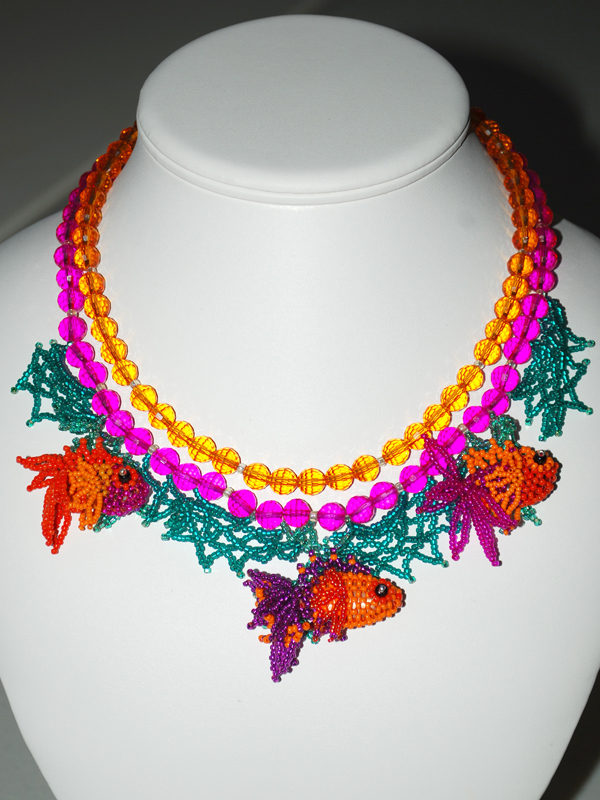 If you want your own Fancy Fish Tutorial, go here to buy it.   It's well worth the money.
And now, go check out what everyone else did with the tutorial.   I can't wait to see.
Without further ado – here's the Official Fish Friends list: