Many beady things have happened since I have last posted… Bead and Button, Sievers, teaching at Bead Fest, and a workshop with Kim Stathis.    Many crazy non beady things have happened too.  Needless to say, it's been a very busy summer.
Technically the Bead and Button Show happened before my last post, but let's start there.    I signed up for 4 classes, but one was cancelled.  All of my classes were great this year.   I took a class on punching aluminum cans, a class with the lovely Cindy Holsclaw from Bead Origami, and a class from Heather Kingsley Heath.  My apologies to the aluminum lady, whose name I can't remember at the moment.
Let's start with the aluminum.   We punched and layered soda cans and came up with these.    I really like the way they turned out.   The large flower will be a pin or pendant, and the smaller flowers will be earrings.   I haven't figured out what to do with the bird tags.  I was going to make earrings, but they are way too big.  The small flowers are about the size of quarters.    The big one is about 2 inches across.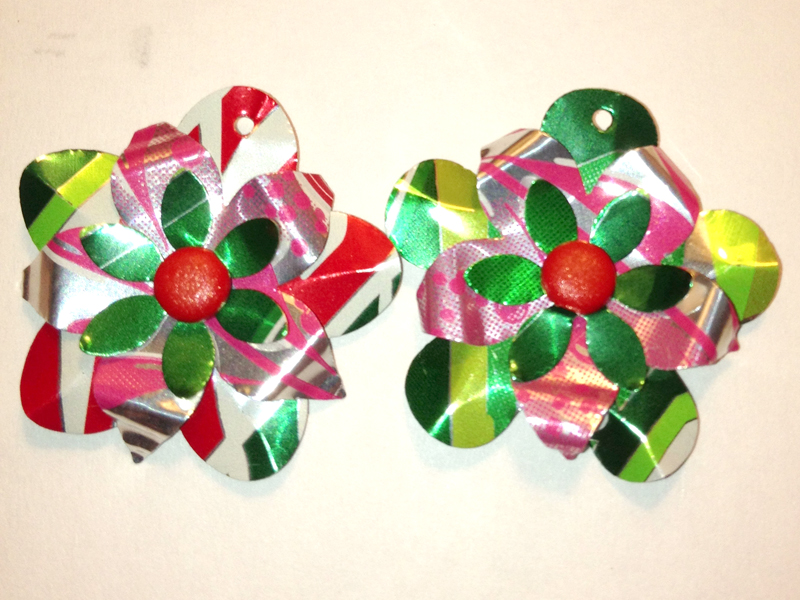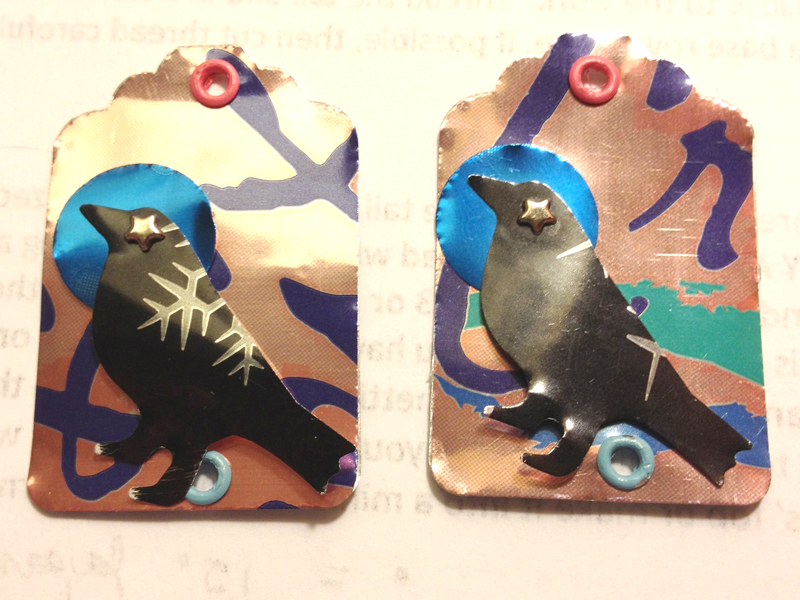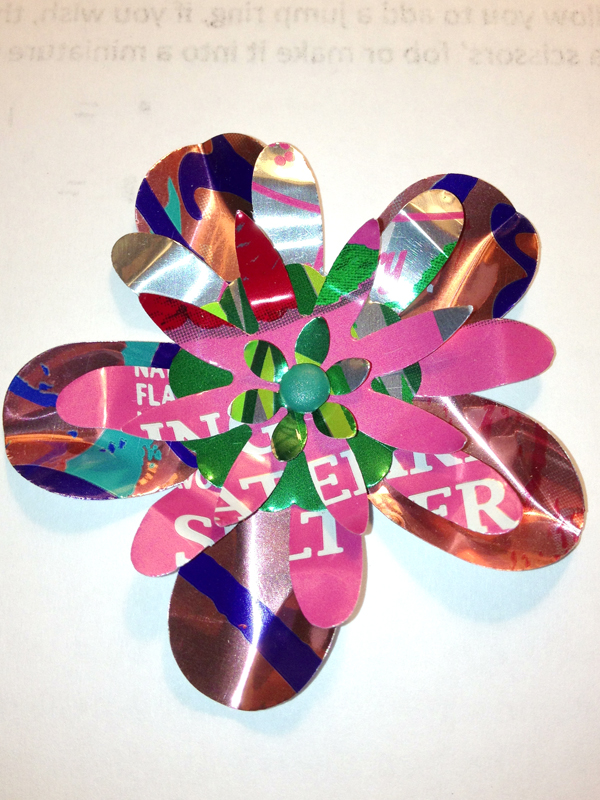 I can definitely see making more of these in my future.   But I really didn't need a reason to walk down the scrapbooking aisle at Michaels…
On to the beadweaving, Cindy's class was next.   I have finished the necklace, and worn it several times, but so far I have not managed to get a picture, so you will have to enjoy this in progress shot from class.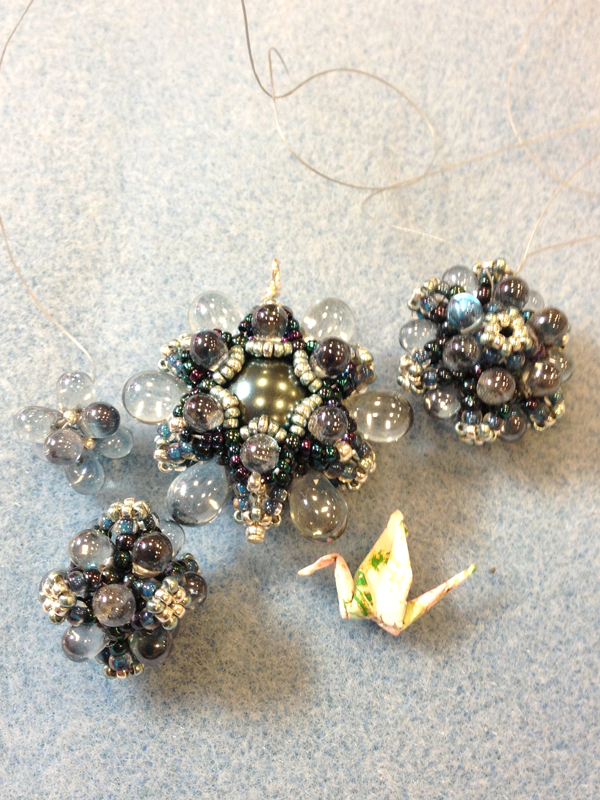 The construction of these beads was genius.  I got one of each done in class.   And that is one of Cindy's teeny tiny origami cranes.   I'll try to post a picture of the finished necklace next week.
Next up was Heather's Acantha Necklace.   I love this piece.   It, too, is finished, and again, I have no photo, so here are two in progress shots from the hotel room, so please excuse the crappy lighting.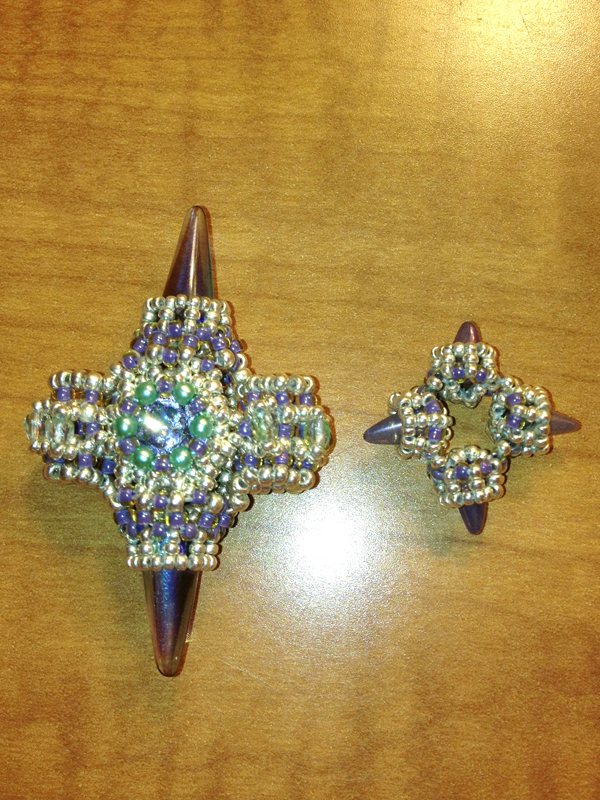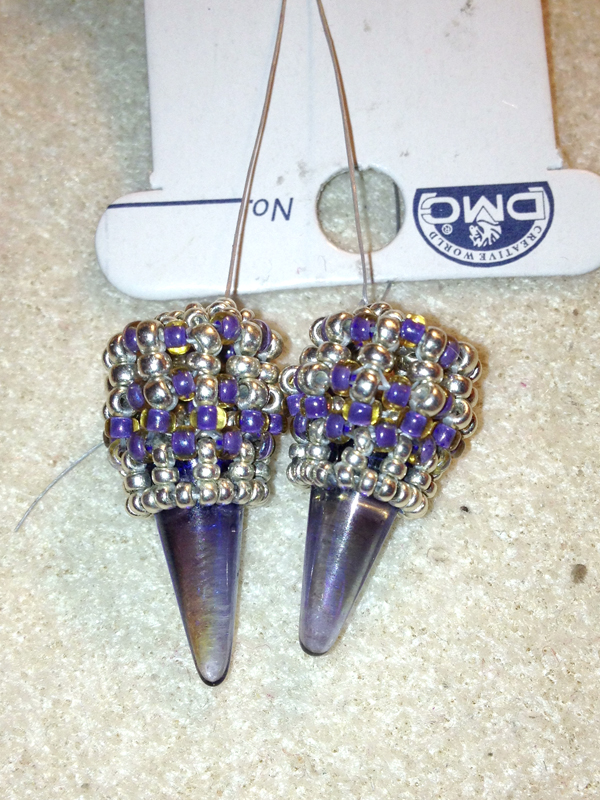 This piece is a lariat style necklace.  The two spike drops go on the bottom of the silversilk cord.    Again, this was a very clever construction.    My brain does not think dimensionally very well.   It always amazes me when people construct things like these.
I will leave you with a few photos of my shopping haul.   Things were a bit subdued this year due to a minor glitch in the plan, but fear not, I made up for it in Philly.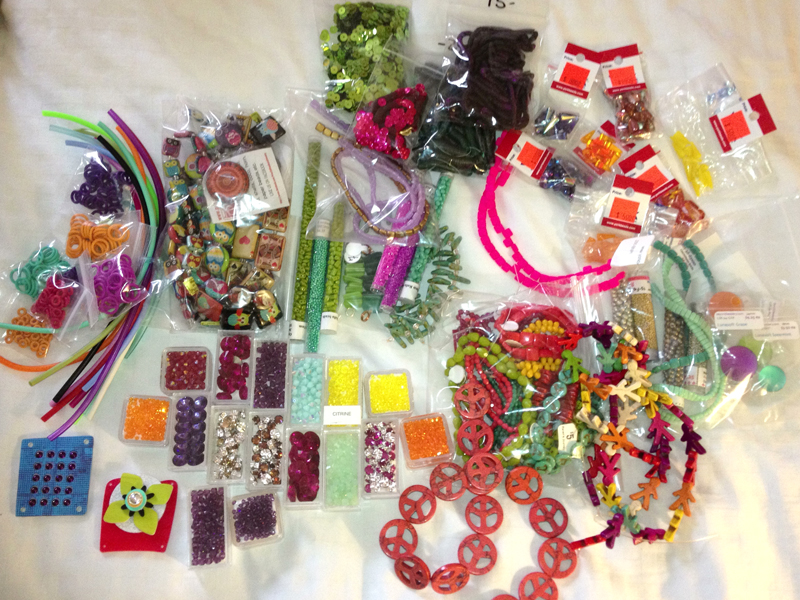 This is the whole shebang.  And next is a close up of just the lucite bits.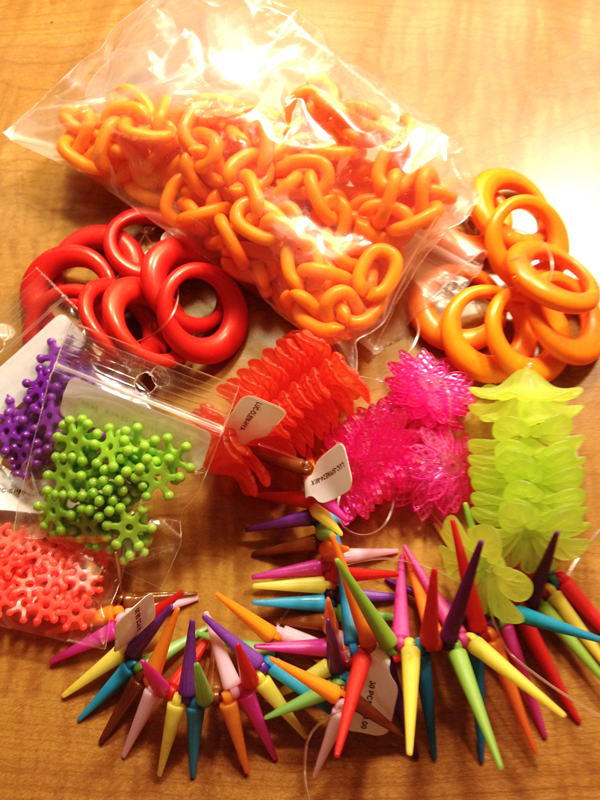 I love those crazy spiky drops.   I don't know what I am going to do with them, but I had to have them.
I will save my other beady adventures for another post next week.   In the mean time, I'm firing up the kiln, getting ready for fall shows and special orders.
---
---