Back in November I was contacted by a representative from TOHO Beads asking if I would be interested in participating in their bead challenge.  Having seen all of the magnificent pieces through the years at the Bead and Button Show, of course I said yes. TOHO makes beautiful beads, and I am always up for a challenge.   Right before Christmas I received my box of beads.  I opened it up and marveled at the sheer quantity of beads.  I knew the quality would be great.  I expected seed beads, but I didn't expect the extras – crescent beads, and melon beads in two sizes.   The demi rounds were a surprise as well.   I had been hoarding some that I bought last summer, but hadn't had a chance to use them yet.    The colors were the biggest surprise and the biggest challenge of the whole piece.   Beige, Cream, Electric blue, and Eggplant.   Not the colors I am used to working with.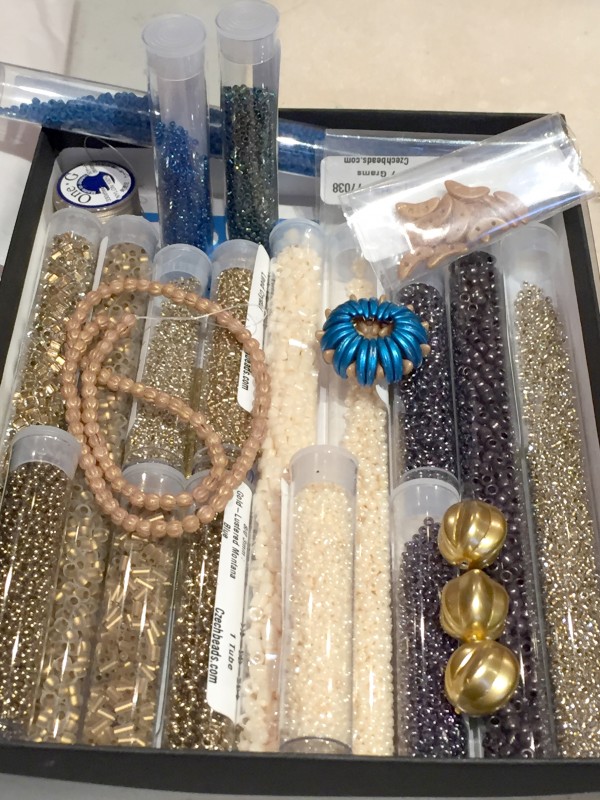 In the rush of holiday excitement, the beads got put aside, and my brain had time to percolate.
The rules stipulated that you could add one focal piece, and whatever findings were necessary, but that the focus should be on the beads.   They also said that the contents of the kit and progress photos should remain secret until the unveiling at the Bead and Button Show in June.   I was so excited about being asked to participate, it was hard not to share.
The more I looked at the colors, the harder the project got.   I am a bright color gal, and a nature girl.   These colors didn't work for either of my comfort zones.   I started thinking about deserts and sand, and I started doing research.   My first thought was to make a desert necklace full of lizards and succulents.    But I couldn't quite get past the lack of green.    I decided to make a few lizards anyway.   Lizards are definitely in my comfort zone.  I ordered some bags of tiny lizards from Amazon and got to work.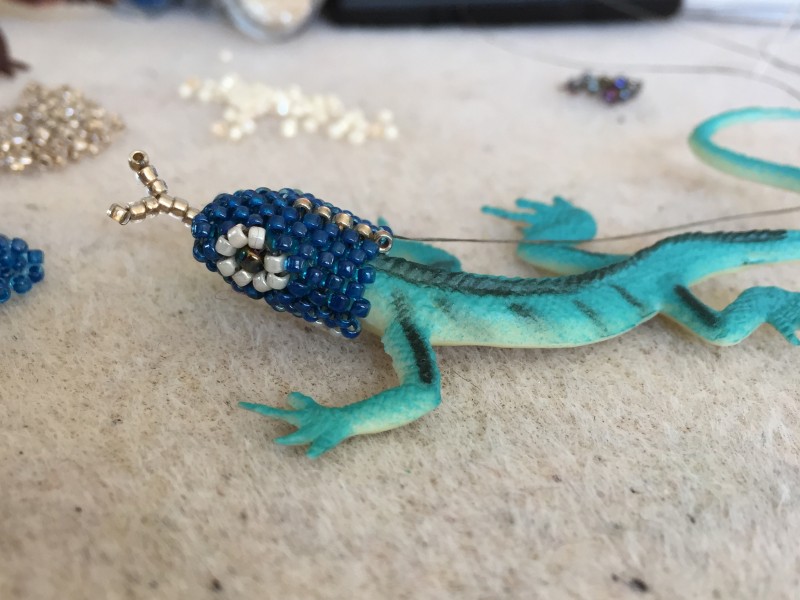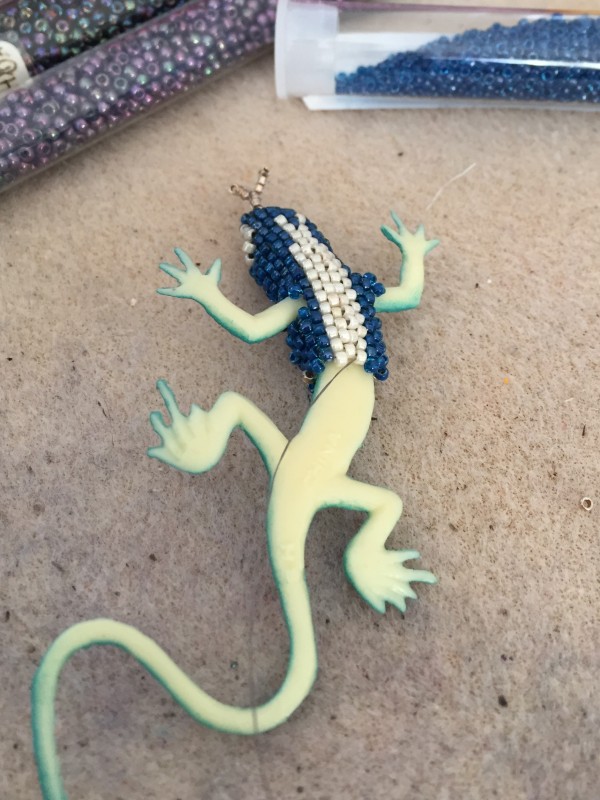 I was hoping to make a bunch of lizards, but there weren't enough 15s in the box to make more than two.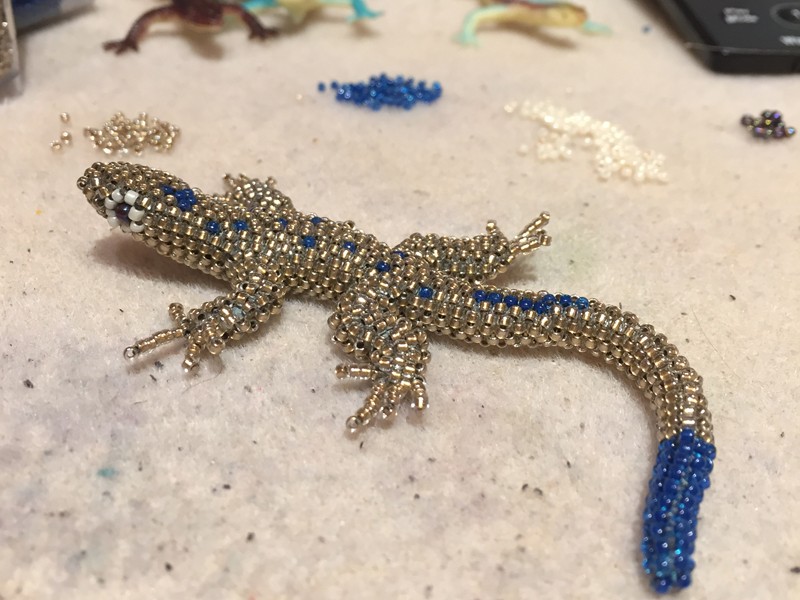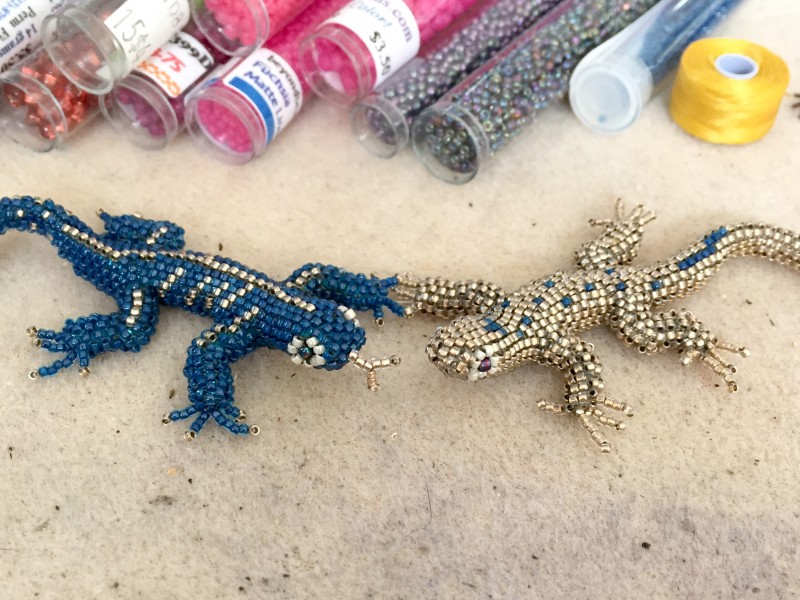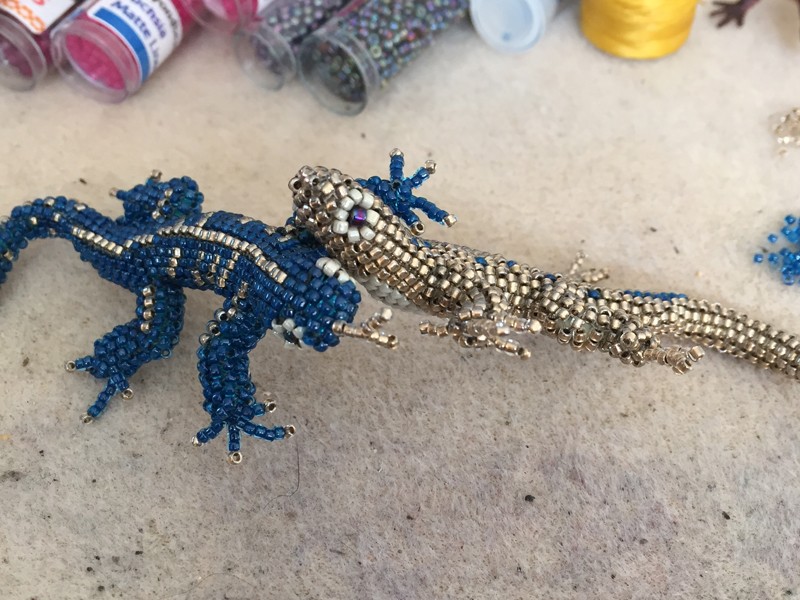 The lizards sat on my bead mat for a while and things got a little silly.
---
---